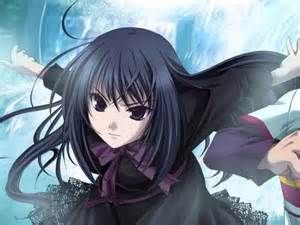 Name:
Nara, Rayne
Age:
8
Gender:
Female
Village:
Morigakure
Rank:
Academy Student
Height:
4' 7" (1m 39.7 cm)
Weight:
60 lbs. (27.28 kg)
Description:
Long black hair, extending slightly passed her shoulders blades, black in the typical Nara color, and is often kept in a ponytail to stay out of the way. Rayne often decorates her hair with a decorative comb kept in it. Rayne's face is oval in shape, and her face is rather equally proportioned. She has dark blue eyes that are often watching everything around her curiously and keenly.
She has what amounts to a an average 8 year old's body type who regularly exorcises regularly. She is seen frequently wearing dark colored clothing, quite frequently long sleeved and with a short-sleeved blue jacket over it. She wears earth colored shorts that extend mid thigh, bandages surrounding her shins. She wears typical open toed boots that extend part way up her shins.
Personality:
Kind and Playful. Rayne enjoys making new friends, but she also isn't naive either.
Inventory:
2 Kunai [2 lbs]
3ft Wire [.5 lbs]
8 Shuriken [4 lbs]
10 Senbon [1 lbs]
2 Smoke Bomb [2 lbs]
Traits:
Trait Points from Training: 0
Extra Trait Points: 10 (5 must be Shadow related.)
Trait Points Per Rank: 10
Total Trait Points: 20
Unspent Trait Points: 8 (3 of which are Shadow)
Attributes:
Strength: 5
Speed: 10
Agility: 12 (10 Passively Altered.)
Perception: 10
Endurance: 10
Willpower: 10
Spirituality: 10
Stamina:5
Attribute Points from Training: 0
Extra Attribute Points: 20
Attribute Points Per Rank: 50
Total Attribute Points: 70
Unspent Attribute Points: 0
Chakra:
244
Skills:
Strike Power:
Grapple:
Strike Speed:
Blocking Power:
Chakra Manipulation: 15
Shape Transformation: 15
Nature Transformation: 15
Creativity:
Focus:
Resilience:
Immersion:
Bladed Weapons:
Other Weapons:
Ranged Weapons: 5
Chakra Control: 15
Enhanced Sense (Sight): 5
Enhanced Sense (Enter Sense):
Enhanced Sense (Enter Sense):
Concentration: 15
Medical Knowledge:
Tracking:
Blank:
Blank:
Blank:
Skill Points from Training: 0
Extra Skill Points: 0
Skill Points Per Rank: 50, 35 passive
Total Skill Points: 50
Unspent Skill Points:
Elements:
Inton/Raiton
Jutsu:
Extra Jutsu Slots: 1 C-rank
Jutsu Slots per rank: 2 D-Rank, 1 C-Rank
Total Jutsu Slots: 2 D-Rank, 2 C-Rank
Empty Jutsu Slots: 2 D-Rank
Advanced Abilities:
[1 AAB] Chakra Absorption
[1 AAB] Shadow Specialized
+1 Favored Skill, +5 Trait Points (Marked with * if used.)
Background
Rayne was born to a family of ninja. Her father is Daisuke, a member of the Nara Clan by birth, and specializes in the use of Clan jutsu as well as Kenjutsu. He met Rayne's mother during his early days at the Academy, though he didn't notice her until many years later, eventually marrying her and settling down together. Rayne's mother, Nagisa Kenchi, was a Kunoichi of little renown, with only a mild amount of talent in Shurikenjutsu. Rayne grew up knowing her mother only for five short years, before she was diagnosed with a terminal disease and dying only a few short months later.
Despite the loss of her mother at an early age, Rayne was able to overcome the despair of losing one's parent, moving on to train with her father in the ways of the Nara Clan, as well as training with other members of the Clan when her father was away on missions. She frequently tends to the deer of the forests, bringing them special treats on occasion, though she isn't quite friendly enough with them yet to get close to them. While she is happy on her own, she enjoys being in the presence of friends a great deal more, and due to her frequent being on her own due to her father's absence she frequently tries to spend time with her peers to keep her from becoming too lonely.
Upon entry to the Academy, Rayne is already capable of utilizing her Clan's specialty, the Kagemane no jutsu, with skill. With this jutsu already learned, Rayne shows off her fine chakra manipulation and control, as well as her Nature transformation of her chakra. Rayne has promising skill in ranged combat in addition to Ninjutsu in general, though she lacks greatly in Genjutsu as well as Taijutsu, she shows great promise with Ninjutsu already.
Protected Status:
No
Note: Please Edit name of Post to express the change in Clan request.